The annual convention of the North Dakota Association of the Blind is held every June. Not only is this a time for members to gather and conduct business together, but it is also a time to share news, learn what local vendors and agencies have to offer, renew old friendships and make new ones. The convention is held at a different major city each year.
2017 Convention
The NDAB 2017 State Convention will be held on June 9, 10, and 11 in Devils Lake.
Location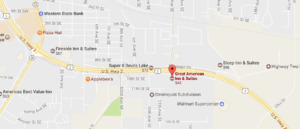 The Great American Inn and Suites
1116 Highway 2 East,
Devils Lake,
ND 58301
Telephone: 701-662-4001
Accommodation
A block of rooms has been reserved at a rate of $71.50 per night. Deadline for room reservations is May 1.  For reservations, call #701-662-4001 and ask for a room for the "NDAB Convention" as soon as possible. Each room has a refrigerator, microwave, coffee pot and hair dryer.
Note: There are no elevators in this 2-story hotel. A limited number of volunteers will be available to initially help locate both meeting and hotel rooms and assist during scheduled coffee breaks.
Registration
Registration documents will be mailed to all NDAB members. You must return your completed convention registration form and payment by May 20. Rooms must be reserved by May 1.
The NDAB and hotel staff cannot be held responsible to administer medications or provide assistance with personal care. If you need such assistance, please plan to attend the convention with a family member or attendant.
Come and journey with us as we "Spice Up Our Life" in Devils Lake and beyond!
Conference Documents
2017 proposed changes to the constitution.
Past Conventions